Integral sandwich structure

In the ReLei project a new process for manufacturing physically foamed sandwich structures from carbon fibre reinforced thermoplastics was developed. The foaming of the micro-cellular core and the forming of the composite top layers were combined into a single process step. The resulting integral sandwich structures offer a high potential for the economical production of lightweight components.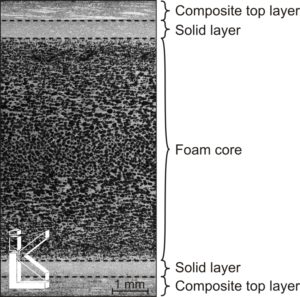 Micrograph of a thermoplastic sandwich cross section © ILK / TU Dresden

ReLei technology demonstrator
The ReLei technology demonstrator is a complex automotive part with high structural loads – a rear shelf with an integrative design. The component is divided into different functional areas, such as stiffening ribs from solid injection moulding material or rigid sandwich sections meeting acoustic requirements. Additionally, continuous fibre reinforced thermoplastic sheets are placed in highly stressed areas.

Main loads applied to the ReLei technology demonstrator © ILK / TU Dresden
The novel one-shot foam-forming process
The novel ReLei foam-forming process provides the basis for efficient production of complex shaped, curved sandwich structures with variable part thicknesses. The different composite top layers are heated externally and are then automatically inserted into the mould by a complex handling system. In places with high degrees of deformation, the surface layers are locally draped into the mould. However, the final shape of the top layers is obtained by the melt pressure in the closed tool during injection moulding. Finally, the cavity is precision-opened in those areas where a sandwich core is to be created by MuCell® foaming.

Exploded view of the ReLei demonstrator part © ILK / TU Dresden
Processing of recycled materials
The ReLei project pursues an interdisciplinary approach in which recycling is regarded as a central point of reference for all development efforts. In this context novel recycling strategies for carbon fiber-reinforced plastics were developed and the resulting semi-finished recycling products such as injection moulded compounds and hybrid non-wovens were processed in the demonstrator.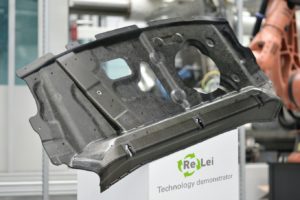 ReLei technology demonstrator part © ILK / TU Dresden
Recycling of complex lightweight components
The ReLei approach does not stop at the use of recycling materials for the demonstrator part but also includes aspects of disassembly, recycling-friendly joining concepts and separation and material classification at the end of the product life cycle.
Copyright © 2018 TU Dresden. All rights reserved.